Wildlife Busters provides animal control services including animal trapping and removal, animal damage repair and decontamination and animal exclusion and prevention plans for residential, commercial, industrial and institutional properties.  Our wildlife solutions are performed using the most humane animal removal and environmentally responsible techniques.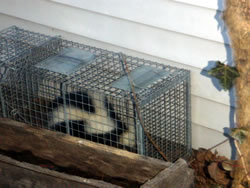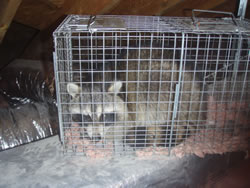 Most nuisance animals are just passing through seeking a temporary shelter and food source, but occasionally they call your home or business, home.
Nuisance wildlife is a danger to you and your property and if it's a place of business that liability extends to your employees, customers and clients.  Wildlife transmits diseases, causes extensive property damage and creates significant fire hazards.  They destroy insulation and siding, chew on wires, clog vents and leave behind droppings whose spores may contaminate your air.
Animal control is our business.  If you are having a nuisance wildlife issue, Who You Gonna Call? Wildlife Busters at 1-855-945-1212 and we will resolve your human wildlife conflict in a humane and professional manner.
"Animal trapping and removal is a key component to animal control". Wildlife Busters
Utilizes a comprehensive 4-step process to get rid of our nuisance wildlife.
Thorough Site Inspection.  We conduct a thorough inspection throughout all areas of your home including the interior (attic & crawl spaces), exterior (vents, soffit, chimney, dormers, window wells etc.) and landscaping.  This is to determine the extent of property damage incurred as well as define the animals' access points into your property.
Trapping.  We set traps based on our observations from the inspection.  Wildlife Busters  prides itself on using the most humane and environmentally friendly techniques available today.  Our most common nuisance wildlife trapping circumstances are

squirrel removal

,

raccoon removal

,

woodchuck removal

,

skunk removal

and

opossum removal

.
Relocation.  Once trapped, all nuisance animals are safely relocated away from homes and according to DEC guidelines.  The DEC is the regulatory or governing body for our industry.

Decontamination

. Nuisance wildlife can carry ectoparasites.  Once we remove the critter, these parasites, i.e. bat bugs; mites, ticks and fleas are looking for a new host-and that could be you or your family pets.    In addition, raccoons, squirrels and even opossums will create a toilette in the attic, crawl space or even on the roof.  This soiled insulation could become so moist that it leaks into your residence or business.  And raccoon scat (droppings); bird droppings and bat Guano (droppings) all carry highly toxic

diseases

that could hurt you, your family, employee or client.    Cleaning and decontaminating the area after the animal has been removed is crucial to permanently resolving your human/wildlife conflict.  We offer

attic restoration services

as well as full

deodorization and sanitization services

.
If you wish to permanently resolve your critter issue, Wildlife Busters would recommend our wildlife damage repair and exclusion services and other prevention plans.