"In the US, metropolitan households (consisting of 160 million residents) suffered $4.4 billion a year in wildlife damage, despite spending $2.3 billion and 268 million hours trying to prevent these problems."1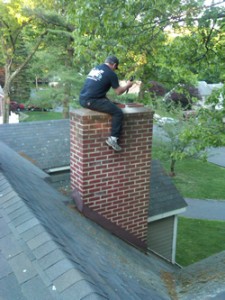 Animal control is not just a sideline at Wildlife Busters , it is our primary business.  We have the knowledge, equipment and commitment to provide the best possible solution to resolve your nuisance wildlife circumstance.  Many times when an animal decides to stop by or pass through your property, they leave behind damaged soffits, siding, attic insulation (the list goes on and on), basically ripping apart the area that they use as there access and exit point.  Additionally, nuisance wildlife will bring bedding materials and food stores and utilize your home or business as a bathroom, depositing feces and urine into the area they are residing.  These materials and excretions carry harmful diseases and viruses that could harm you or your family and pose a significant liability to you if it is a place of business.  Wildlife Busters  offers a full range of animal damage repair, sanitization and decontamination services as well as wildlife exclusion and prevention plans.
Animal Damage Repair services include: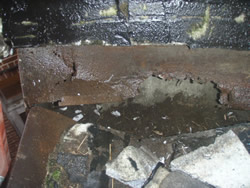 Attic cleanout and restoration
Attic insulation
Chimney crown repair
Minor carpentry, soffit and fascia repairs
Vent guard repairs, replacement and screening
Dead animal removal, sanitization and decontamination
Decontamination and Sanitization
Decontamination and sanitization is a crucial component to assist in permanently resolving your nuisance wildlife issue.  Not only are the bodily excretions and nesting materials dangerous because of the diseases and viruses they carry, but any reminence of an animal could attract other animals.  Our comprehensive 3-step decontamination process ensures that nothing is left behind.
The process includes: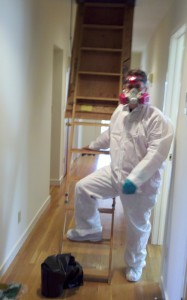 Remove contaminated materials (i.e. attic insulation, sheet rock).
Remove animal waste and nesting materials.  Done with a combination of vacuums and hand removal, to ensure all droppings/materials are removed.
Utilize an environmentally friendly enzyme based biological cleaner.  This eliminates the bio-hazard in the area, destroys the smell and eliminates odors that can attract new animals.
We provide before and after pictures.
If you are having an animal control problem, Who You Gonna Call?
Wildlife Busters at  1-855-945-1212 to permanently resolve your human wildlife conflict.
(1) Michael Conover, Resolving Human-Wildlife Conflicts, The Science of Wildlife Damage Management, page 103, 2002