A New Year, New Beginnings And A New Company To Provide You With Bird Management Solutions
The New Year is a wonderful time of year to take a moment to reflect; to acknowledge growth; to fine tune systems and to reevaluate goals! 2012 was a wonderful year for Wildlife Busters. We had the privilege of broadening our client base and the honor of continuing our relationships with our already established valued customers. We have also been very busy growing a new company! We are pleased to announce that we have expanded our horizons into the bird management industry and have officially launched The Bird Busters.
The Bird Busters will focus on humanely and effectively helping commercial and residential property owners manage their bird nuisance issues. Birds are valued creatures in our ecosystem, but if they are not managed, they have the potential of causing a great deal of damage to your building components, your inventory and your image.
There was an interesting article in The Wall Street Journal commenting on how urbanization has impacted wildlife. Suburbs are being overrun with wildlife as development encroaches on their natural habitat, destroying their territories and their food and water sources. Many of the animals that we work with, including raccoons, skunks, bats and squirrels are directly impacted by development and as a result one may discover a raccoon in their attic, a skunk in their basement or a bat in their house. Birds on the other hand thrive in human habitats given their unlimited food supply and a multitude of possibilities to nest safely. Very often, a bird issue is not recognized until it becomes a problem. In the greater Hudson Valley we experience pest birds ranging Pigeons, Sparrows, Starlings, Canada Geese, and Gulls. These birds find safe havens on ledges, along rooflines, in HVAC units and in signs. Bird droppings are highly acidic and have the potential to accelerate the breakdown of machines, equipment, and inventory translating into a profit loss for your business. Droppings are also extremely slippery and present a slip and fall risk to. Aside from droppings, bird-nesting materials are problematic. Birds are messy animals and drop debris, which accumulates over time, clogging heating and cooling vents and HVAC units. This accumulation also presents health and safety issues as well as fire threats.
Over the next coming months we will be bringing you information about birds in our area and our bird management services and solutions, from physical deterrents to audio, and visual deterrents. In the meantime we welcome you to visit our new website thebirdbusters.com. We hope you enjoy! Remember, early detection of a bird infestation will save you money in the long run! Protect yourself, your property and your assets and give us a ring before your situation becomes a problem. We look forward to hearing from you. And as always, If you are experiencing a nuisance wildlife issue, whether you need squirrel removal, raccoon removal, woodchuck removal, skunk removal, bat removal give Wildlife Busters® a call toll free at 855-945-1212 and we resolve your wildlife management issue professionally, efficiently and humanely.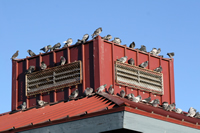 Sizzling Hot Deals for January 2013!!!!!
We are working on building our social network. Visit us on Facebook and click "like" to receive 10% off of your inspection in the month of January. To reedem your 10% just post on our wall and we will pass the savings on to you!
Community Wildlife Programs and Upcoming Events
Mohonk Preserve
Winter Wings: Birding for Children – Saturday, Jan 12, 2013 10-11:30am, Overcliff and Beyond Ski or Hike Saturday 10am-12noon., Do you have a BIG goal for 2013? Consider taking the Rock The Ridge Challenge via the Mohonk Preserve.
Hudson Highlands Nature Museum
Exhibit Grand Opening: Mastodons-Ice Age to Discovery Saturday, January 26 and Sunday, January 27 – 10am – 4pm , Backyard Chickens for Beginners Saturday, January 12 from 1pm-4pm at the Outdoor Discovery Center, Introduction To Bee Keeping Sunday, January 20 from 10am-2pm at the Outdoor Discovery Center, Animals and Nature Together 6-week Adult/Child Program begins Monday, January 21 – Tuesday, January 22 – Wednesday, January 23 and Friday, January 25.
Weinberg Nature Center
Nature Workshops, January 21 (Full Day) 10:30—2:30 Under the Sea: A closer look in Long Island Sound and January 25 (Full Day) 10:30—2:30 Back In Time: Dinosaurs & Fossils.
The Bear Mountain Zoo
And for some Wildlife fun all year round visit:  The Bear Mountain Zoo located in the Bear Mountain State Park, NY