Need Help With Squirrel, Raccoon or Bat Removal?
Wildlife Busters® is your solution
We are a full service wildlife removal company servicing both commercial and residential property owners throughout Westchester, Rockland, Putnam, Dutchess, Ulster, Orange and Columbia Counties in New York. We pride ourselves in providing professional, humane and effective solutions to human wildlife conflicts.
Some of the cities we provide wildlife removal services are Chestnut Ridge, Hartsdale, Heathcote, Kingston, Monroe, Newburgh, New Rochelle, Palisades, Poughkeepsie, Pomona, Suffern, Tuckahoe, White Plains and many more.
Wildlife Damage Repair and Decontamination
Wildlife Removal is not just a sideline at Wildlife Busters®, it is our primary business. We have the knowledge, equipment and commitment to provide the best possible solution to resolve your nuisance wildlife circumstance. We provide Squirrel Removal, Raccoon Removal, Bat Removal and more.
Wildlife Exclusion and Prevention Plans
We are New York's premiere nuisance wildlife removal service company. Our licensed wildlife technicians are expertly trained in animal removal services including animal trapping, wildlife damage repair, decontamination, animal exclusion and prevention plans.
Wildlife Pictures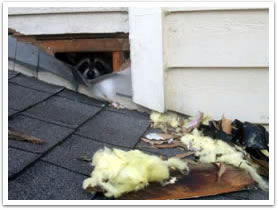 Wildlife Videos
My family & I recently had an invasion of squirrels in our home. Due to the recent storms our soffit was damaged and unfortunately squirrels made it their home. I contacted Wildlife Busters® and was extremely pleased with the prompt & immediate service I received. They were sensible and humane with their techniques which not only got the squirrels out but got our home back in order. Thank you Wildlife Busters®! ~ Ian Frey, Airmont, NY