We provide Bat Removal and services in Monroe, NY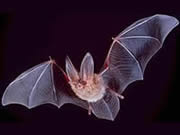 As a bat exterminator we get rid of those bats in the attic in an efficient and humane way.
We are a locally based New York wildlife removal company providing Bat Removal and services in Monroe, Orange Co., NY. for residential and commercial properties.
Are you looking for Bat Removal and in Monroe NY?
Call: 855-945-1212
Our Bat Removal service in Monroe NY, can help you get rid of bats in the atics and also our decontamination and exclusion work ensure that we permanently resolve your Array nuisance that have taken refuge on or in your property.
We not only offer bat pest control services in Monroe, we also provide bat services in Orange, Dutchess, Putnam, Westchester, Ulster, Rockland and Columbia Counties and there cities.
Whether it's your business, primary residence or vacation home, we handle nearly all aspects of Bat Removal and in Monroe NY. In all of our servicies in Orange Co. we apply our extensive knowledge to create the best solution for your human wildlife conflict circumstances.
We offer same day Bat Removal service and are available 24/7 for emergency situations in Monroe NY.
We can help you solve many more animals problems, but these are the most called for on commercial and residential properties.
Other services that we provide in Monroe NY are raccoon, squirrel, woodchuck, snakes, skunks, birds, beavers and more.
We provide the best in Monroe NY. Our service covers all the cities in Orange Co..
What we will do:
Thorough site inspection of the commercial or residential property combined with on-site interviews. This is done to clearly understand the issue and to determine how and why the Array got there.
Identify, select and execute the best Array solution for the human wildlife conflict circumstance and customer.
Decontaminate (if necessary) and implement exclusion work to ensure that the Array will not re-enter your home. Wildlife Busters® will provide you with a guarantee on all work performed. Wildlife Busters stands behind all of its services aimed to cure and prevent wildlife infestations. We back the work we perform with written warranties. Warranty lengths can vary depending on many factors. Warranties are not insurance policies rather they are a guarantee that the work we do will last for at least the length of the warranty period. If by chance something does happen within the warranty period our technicians will return to repair the problem at no additional costs to you.
Provide educational materials and coaching to the customer on best practices to ensure no further intrusions occur in your residence, commercial property or place of business.
Most wildlife management problems that we had in Monroe begin on the outside and work their way inside the property. You can be confident that our specialists will take the time to inspect your property from top to bottom, inside and out to make sure we resolve your problem permanently. All of our Bat Removal services are humane and our work performed is guaranteed.
Whether it's a bat infestation in your attic or other wildlife as raccoon's or squirrels, or a skunk spraying your family pet, Who You Gonna Call? Wildlife Busters.